Hello and happy Wednesday!
I wanted to share a few of my fave posts I have come across this week. I promise they are informative, meaningful, and worth your time to read through…especially if you are a blogger… so, without further a do…
Pulling on the heart strings:

Kate from KATEandKUBY blog is doing a fundraiser giveaway to help raise money for her and her family to adopt. I have been reading Kate's blog for a little over a month now and it has quickly become one of my faves! 
Head on over to her page to watch their adoption video, learn more about the giveaway, and help her and her hubby reach their goal to bring home their baby.
And not that you need to win anything for helping someone out, but check out the awesome prizes below!
*****
Best blog tip/ post I ever read:
Ok, I just came across this blog post today and it seriously was the best find EVER!! Simonne from Greatfun4kids lays out how to add personalized social media buttons to your page so that even a dummy can do it! Check out my fancy new icons for Twitter, Pinterest, etc  at the top of the page, to the right….how awesome is that?!
*****
More helpful resources for bloggers:
Ok, so speaking of breaking it down for newbie bloggers, Nicole from Simply Nicole wrote this post that really simplifies how to self host, own a domain, and design your blog. I just sent a tweet out this AM asking if anyone had any tips or useful info on the best way to convert my wordpress site to my own domain and self host… and then, low an behold, I came across this post!
Nicole was also very helpful with answering some questions I had via Twitter!
I am still curious, though, as to what all the benefits of self hosting and owning your own name are…. is it really worth it?? I must say, it can be quite overwhelming and confusing!
Anyone have any tips/advice? 
*****
All the ladies in the place with style and grace…help grow each other's blogs!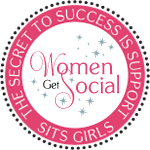 Join the SITSGirls next week for the Blogtober challenge to help one another grow our blogs! This site is just awesome in general for learning about blogging…I have so many posts I need to go through and read from these ladies!!
*****
Just plain awesome:
Ben Wilkenson, who has cerebral palsy, finished the Salt Lake City Marathon to raise awareness and inspire those with disabilities to go after their dreams and remind us all that anything is possible!
You must watch!
*****
And last but not least…..
I want to thank Sarah from StrongFitBeautiful for nominating me for the Sisterhood of the World Bloggers Award.
The award represents attitude and gratitude, and I  am grateful to have found Sarah's blog because she is a fellow Group Ex instructor and I can really relate to a lot of what she writes about.
What awesome blog posts have you come across this week?
Any tips on the self hosting/ domain owning madness?